Quadrent's total solution
Quadrent is a trusted corporate equipment financier providing operating leases, asset management and IFRS 16 compliance and reporting for clients.
We have a complete cradle-to-grave process that supports our clients through every stage of their equipment life-cycle needs.
This starts with the initial purchase and deployment of equipment at the start of the lease, continued asset reporting during the lease period and finally assisting with the disposal of the legacy environment at the end of the lease before the cycle commences again and the equipment needs to be refreshed and replaced.
Our corporate financing actually saves our clients' money and in most cases represents lower total cost of ownership (TCO) when compared to capex or bank borrowing.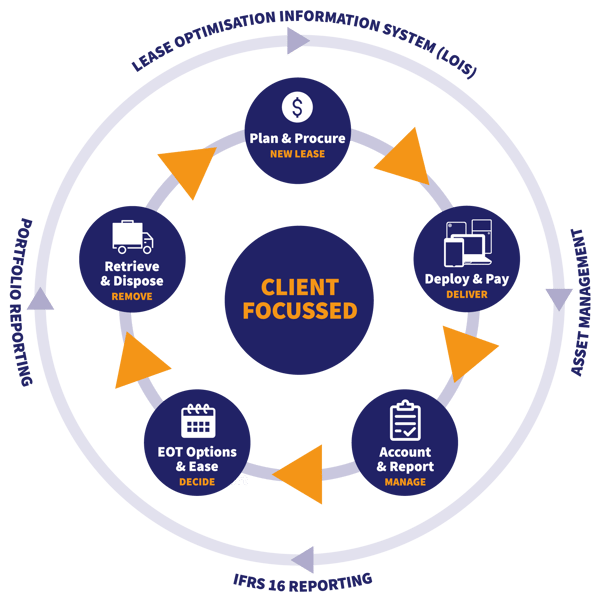 Put simply – Quadrent provides a total solution.
Customers come to us with problems and requirements stretching well beyond wondering what's the best way to finance equipment. Here we address some of the problems your business may be facing now or in the future.
As environments change, the need to have the latest equipment driving business productivity is critical, as is having the most appropriate and competitive leasing. However the world of finance, leasing and accounting has also become more complex.
In many cases, we are finding solutions to problems before they occur, or get out of hand. Have a think about the evolving challenges your business may be facing, so you remain ahead of your competitors and continue to lead your business as you read below…
Q1. "How can I afford the time or cost to find, collect, package, remove and wipe the old assets, report on them, and arrange the new replacement environment whilst juggling all the other day-to-day priorities of running a big company?"
A1. At Quadrent we understand that organisations have business critical technology projects that need to be up and running fast. At some point, the headache of dealing with legacy infrastructure needs to be addressed by all businesses.
Quadrent can help you and your IT re-seller get your project started faster with automatic pre-approved finance options and competitive wholesale payment plans as well as help you manage the legacy environment.
We can help dispose of the old equipment by collecting and environmentally disposing of your old assets, so that you're ready to launch the new project. If required, we can also help with deploying the new leased assets and assist with roll-out.
Q2. "How can I manage IFRS 16 compliance effectively but also quickly?"
A2. Australian businesses have passed the adoption deadline of 1st July 2019 for IFRS 16 compliance meaning it is now a reality for organisations and cannot be ignored any longer without incurring increased audit and accounting costs that could delay your companies financial reporting.
This means that the operating leases your organisation has committed to will now need to appear on balance sheet – a daunting task for organisations with hundreds of leases in locations throughout many regions.
Using Quadrent's 'software as a service' product – LOIS (lease optimisation information system), Quadrent has over 50 ASX listed, NZX, institutional, multinational and government clients across Australia and New Zealand, with the platform now managing over 30,000 leases and $26b worth of assets.
To know more, contact us to learn about our system that gives you rich reporting, dashboards and insights now and into the future.
Q3. "How can I avoid hidden 'surprises' at the end of the lease term?
A3. At Quadrent we don't like our customers getting surprises. If you're a Quadrent leasing customer we will proactively reach out to you well before the end of the lease term to ensure you understand all your options and work with you on the best solution for your business. That solution may be to replace the goods, keep them or extent the lease period for a little bit longer, but your business goals and needs will inform the best arrangement.
Furthermore, if you are a LOIS customer, the software will alert and remind you of upcoming expiries to avoid automatic roll-over from other leasing providers, enabling you to avoid unwanted surprises.
Q4. "How do I position a total cost of ownership comparison between a capex purchase and alternative finance options internally to my colleagues?"
A4. Quadrent brings the dual expertise of accounting and equipment finance to the table. As part of our consultation process, we'll provide you with a prepared direct comparison of the financial costs and benefits of both, for you to consider. We can provide you with advice and guidance as to the benefits of alternative finance options over capex. For example; these benefits include the lower cost of equipment use over time, compared to an upfront purchase and benefit of interest deductions and aligning cash-flow income with cash-flow output overtime, as well as an evaluation of the true cost of capital considering interest rate variations.
Armed with this knowledge, we will be able to help you position this discussion with internal stakeholders and CFO's with evidence.
Q5. "What if I'm stuck with an existing lease with another provider, but I want to upgrade my equipment. Do I have to wait until my lease finishes before talking to Quadrent?"
A5. No. We'd be happy to talk to you at any time and objectively review your leases and obligations.
If we can provide you with a better suited facility and save you money, we will prepare a detailed comparison and recommendation.
These are just a few of the challenges that our clients face, and these customer needs have been used to inform our total asset and information management service, so that our customers remain front and center in everything we do.
We'd be delighted to help or have a chat anytime, so feel free to email us here for an initial free consultation.
This is the Quadrent way – a different, simpler, better solution to equipment finance and asset management.
Related Posts
You might also like