NZ Corporates Commit to Giving Hundreds of NZ Students Better Access to Tech
18 months on from launch, an innovative partnership by leasing specialists Quadrent and BNZ, the Quadrent Green Lease is delivering on its vision to enable New Zealand's largest corporates to reduce e-waste entering landfills and provide repurposed digital technology to communities around New Zealand.
Since 2022, 400 high quality, ex-lease laptops have been donated to Te Wharekura O Arowhenua and Aurora College (Invercargill), Tōnui Collab (Tairāwhiti) for students of flood affected schools including Te Aute College (Central Hawkes Bay) and Hukarere Girls College (Eskdale), and most recently Tangaroa College (Ōtara, South Auckland).
Organisations that have signed up to the sustainable leasing arrangement include PwC, Bell Gully, ANZCO, Buddle Findlay, EnviroNZ and Te Puni Kōkiri (Ministry of Māori Development).
Challenging the status quo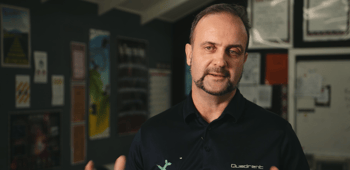 "Traditional supply chain, procurement and ownership models associated with technology simply aren't delivering what we need them to because they contribute to two of New Zealand's most pressing problems: waste and digital inequality," believes Quadrent's New Zealand General Manager, Gary Nalder.
In line with this, New Zealanders generate three times the global average of e-waste annually - with each of us accounting for 19.2kgs of e-waste each year. In addition, while most of us take having access to use a laptop, a mobile phone and the internet for granted, 1 in 10 New Zealanders are excluded from performing basic technology tasks.
The Quadrent Green Lease allows businesses to fund technology purchases via a lease (that is backed by a BNZ green lending loan product) and at the end of the devices' lifecycle within that organisation, pass them back to Quadrent who responsibly recycle and redistribute the technology, including donating a portion of high-spec and high-quality tech devices into communities that need them most.
"We're giving large organisations a way of transforming the way technology is used especially when it comes to reducing e-waste and emissions and helping vulnerable communities around New Zealand get online and take part in the digital economy," explains Gary.
Grass roots impact
"The impact potential of the donations is significant; something we all saw first-hand when capturing footage of a recent donation to cover three classrooms at Tangaroa college," says Gary.
Situated in Ōtara, the college has 800 students, yet only half have access to a computer that enables them to complete their learning. During Covid, devices provided by the Government for in-home learning for the same school were being shared by 10-12 people, with students submitting homework at 4am because this was the only time they had access to a device.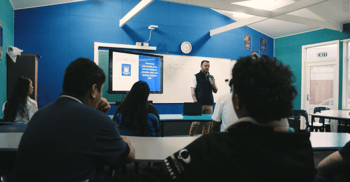 "I can't tell you how much difference it makes…being able to set up a class and know that everybody is tuned into you as opposed to using their own mobile phone or sharing a chromebook," says Rob Downie, Head of Health and Physical education at Tangaroa College. Now, the school is able to provide every student with a device in class so that they can focus on their work individually.
Drivers of change - the right product at the right time
Gary believes the increase in uptake comes as a result of increasing momentum around ESG.
"Consumer demand, investor pressure and global challenges like climate change have accelerated a focus on ESG for long-term success. ESG principles are now central to business strategies that promote sustainable and responsible practices. In many ways, the Quadrent Green Lease is the right product at the right time - giving organisations peace of mind that its technology is appropriately managed throughout its lifecycle, including ensuring it is securely wiped and environmentally repurposed, recycled or redistributed along with a full range of reporting that complies with cybersecurity and ESG policies," explains Gary.
Impact potential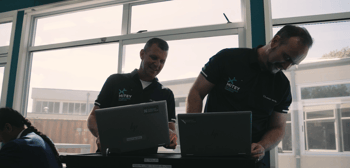 "The organisation's vision is to donate 20,000 laptops a year to students in need, hence targeting partnerships with organisations who can move the needle quickly in terms of the scale of devices for donation," believes Gary.
To bridge the gap between organisations signing up to the Quadrent Green Lease and having laptops ready to donate, Quadrent is working with customers to buy back some of their current laptop fleet, so that they can be donated to digital inclusion projects next year. This could potentially number in excess of a thousand laptops as the organisations in the pipeline are very large New Zealand corporates.
"The potential for significant, far-reaching impact is huge. In New Zealand alone, there are 2 580 businesses with over 100 employees. We're excited to see these first six organisations taking a leading stance on e-waste; and we're proud to be a partner of choice, when it comes to ushering in a low carbon and digitally inclusive future," concludes Gary.
Related Posts
You might also like