Using software to strengthen governance and financial management in the education sector
Quadrent is a proud supporter of the education sector, having partnered with schools and universities for their equipment finance and asset management needs for over 18 years. Our in-house team of accounting and structured finance experts also enables us to understand the unique challenges that business managers face within schools. For this reason, Quadrent has entered into a partnership with IRIS Financials. In this article, we outline the key features of the IRIS Financials software suite and how it can benefit your school.
The benefits of the right software in your organisation
Specialising in financial management software for the education sector, IRIS Financials is used by over 800 schools in over 58 countries. Programmed especially for the education sector, this comprehensive suite of software tools allows schools to streamline processes and increase efficiency across all departments. This will enable schools to:
Save time through flexible, functional finance management.
Take control with centralised control, allowing you to implement policies and improve procedures across the organisation.
See the big picture and connect all your data to gain a complete, transparent view of the school to guide critical decision making.

Bringing a global perspective to your school
IRIS already has around 11,000 schools using its financial software solutions and will leverage this footprint to bring IRIS Financials to schools in the APAC region. Having the right tools to be adaptable and make strong commercial decisions is critical in the education sector. But it is particularly important now as schools need to assess changes quickly and effectively.
One software suite to manage all aspects of your organisation
Many schools already enjoy the benefits of alternative financing and asset leasing. The addition of IRIS Financials to their toolkit is another positive step in continuing to strengthen the financial stability of all schools, and most importantly, delivering positive learning outcomes for students.
With IRIS Financials' software, schools will be able to effectively manage a range of business functions, along with addressing the common challenges of different departments.
Finance, budgets and reporting
Take the challenge out of large school and multi-academy trust reporting. Unified ledger technology empowers users to generate accurate, up-to-date reports. Business managers can view data across all locations or drill down into specific schools for incisive reports. Streamlined financial management and reporting empower schools to plan spending with financial confidence.Communications and admin
Engage with parents by sending news and information directly to their phones. Pull contact information from your school's MIS and manage attendance, safeguarding and parent's evening appointments from a single platform. Save your school the time and money spent printing, sealing and sending home endless paper letters.
School payments and cashless catering
Schools need robust software solutions to process the money they need to collect every year. By integrating their payments and cashless catering with parental engagement systems, schools can reap the rewards of cashless payments. This eliminates the need to carry cash in your school and makes it easy to collect payments that are in arrears.
Administration, people and asset maintenance
Reduce staff turnover by adopting a proactive approach to human resource management. Analyse and identify skill gaps, patterns of absence and staff shortages and take action before you lose vital employees. Further, you can manage your school's facilities and resources with ease over one location or a hundred, and ensure compliance with statutory requirements using IRIS Financials' administration, people and asset maintenance programs.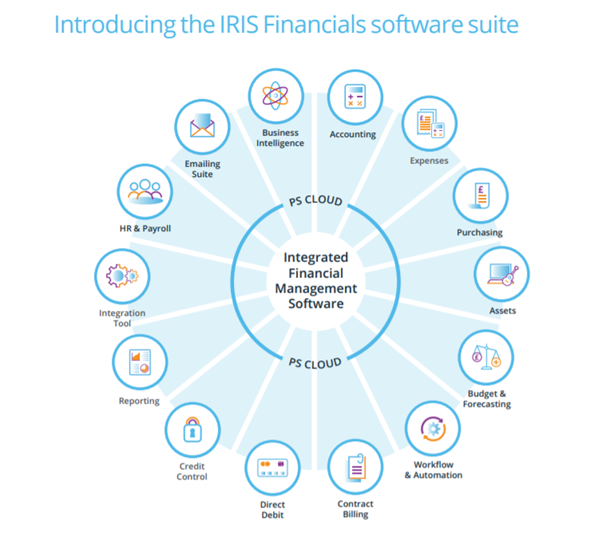 All of the tools your school needs in one, intuitive platform
IRIS Financials is a complete integrated platform. As a single platform that will take care of multiple aspects of your school's finance management functions, enjoy the benefits of more efficient administration and stronger data integration and management which are key in modern education settings.
Download our brochure to understand more or book a demo to understand the suite of products that might suit your business best.
Related Posts
You might also like