Introducing IRIS Financials - An integrated solution for the education sector
With the partnership between Quadrent and Innervision leading to the successful expansion of the company's footprint across APAC, Quadrent has entered into a new partnership with Innervision's parent company, IRIS and their IRIS Financials products for the education sector.
Specialising in financial management software for the education sector
IRIS Financials is used by over 800 Schools groups across 58 countries. Due to its existing successful relationship with IRIS, Quadrent is now partnering with the company to expand the company's footprint.
IRIS already has around 11,000 schools using its financial software solutions and will leverage this footprint to bring IRIS Financials to schools in the APAC region. Having the right tools to be adaptable and make strong commercial decisions is always critical in the education sector. It is particularly important now as schools need to assess changes quickly and effectively.
Many schools already enjoy the benefits of alternative financing and asset leasing. The addition of IRIS Financials to their toolkit is another positive step in continuing to strengthen the financial stability of all schools, and most importantly, delivering positive learning outcomes for students.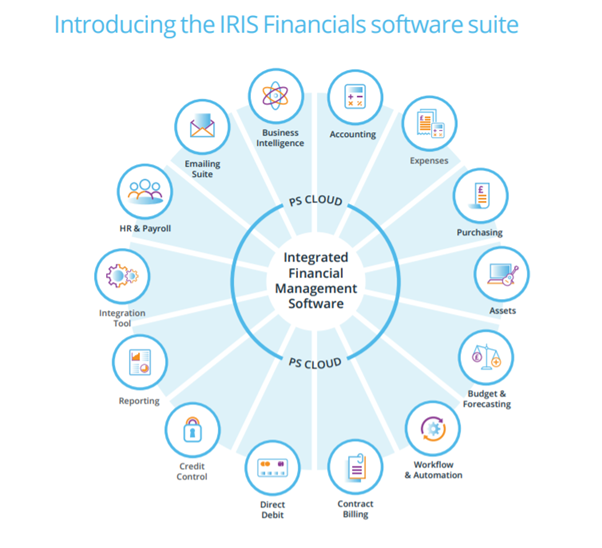 Made uniquely for education, this comprehensive suite of software tools allows you to streamline processes and increase efficiency in every department. This will enable schools to:
Save time: Eradicate duplicate tasks and data re-entry with a single, unified system, saving time and preventing human error.
Take control: With centralised control, you can implement policies and improve procedures group wide.
See the big picture: connect all your data to gain a complete, transparent picture of the organisation and guide critical decision making.
With a combined 35 years' experience meeting the needs of school groups and helping many organisations meet their new financial responsibilities, Quadrent partnered with IRIS are the administrative experts in the education sector.
IRIS Financials is the most trusted unified ledger database system designed for education establishments on the market. In place of separate systems at each school within the group that require manual reconciliation, IRIS Financials automatically consolidates all data – including individual school accounts, asset registers, purchasing, payroll and expenses – in one place.
The unified database model offers a range of advantages, including:
Real-time data analysis and unlimited data drill-down
Greatly simplified accounting and reporting
Lower infrastructure and maintenance cost
Unique flexibility and futureproofing
If you'd like to understand how Quadrent's asset leasing and financing solutions, along with software packages such as IRIS Financials can contribute to positive learning outcomes for students while ensuring you engage teachers and parents effectively, click here to read more about the solution or download our brochure.
Contact us today if you would like to understand more about how your organisation can make sure it has the technology infrastructure it needs while maintaining a strong financial position and engaging learning environment.
Discover more: Benefits of Equipment Leasing for Schools
Related Posts
You might also like