How to Find Cost-Effective and Practical Ways to Maximise the Value of Your Assets
Constrained borrowing levels have added to the pressure on finance teams to source optimal solutions for financing assets. Finding cost-effective and practical ways to maximise value throughout the asset lifecycle is critical. Quadrent, in collaboration with PwC, recently hosted a webinar outlining how companies can use leasing as a commercial and strategic choice in today's post-COVID world.
View the webinar recording here and keep reading below for a summary of what was discussed.
Drive the Most Value Out of Assets With Leasing
The underlying factor that companies should consider to derive the most value from leasing is assessing the opportunity cost of leasing versus buying. For example, if an organisation has invested a dollar, in a non-earning asset, then it needs to earn more than the interest rate for that equipment to drive as much value as possible. Put simply, an organisation's profit margins should be higher than the interest it pays on various financing facilities.
The other key area of value generation in leasing is the end-of-lease activities. Having a specialised provider manage activities such as data erasure and refurbishing devices for the secondary market ensures a company's data is safe and minimises its environmental footprint. From a financial perspective, leasing also provides more budget certainty with clear timelines on when to upgrade driven through the lease terms. By understanding exactly what an organisation is paying for, companies also get a clearer picture of whether the leases are delivering commercial and strategic value.
Common leasing opportunities and where companies may be missing out
In the post-COVID environment where hybrid working, demand for talent and sustainability remain key issues, leasing can provide a timely solution. Providing a positive people experience to new and veteran employees alike is critical, especially in a tight labour market. Leasing allows companies to have the best IT infrastructure possible while avoiding large capital outlays.
Outside of user devices (laptops and phones), companies can also lease other hardware such as Wi-Fi routers and servers and necessities such as office furniture. The clear separation this provides between operating expenditure and capital expenditure can also streamline financial management. Finally, leasing allows companies to adapt to the changing work environment faster. For example, where an office may have needed an extra meeting room, it now only needs small single-person pods for employees to privately join video meetings with colleagues located at home or around the world.
Understanding the asset lifecycle
Asset lifecycles have shortened in recent years. Where laptops were once suitable for four or five years, the typical usage period is now three years. Similarly, phones have gone from a three-year usage period to two years. The other key change impacting the asset lifecycle is how this equipment is being used. With more people continuing to work from home, growing cybersecurity risks, and the "great resignation" impacting organisations, the ability for companies and their employees to have current technology ensures efficiency and plays a role in creating a positive working environment.
Devices such as laptops and mobile phones can have a useful second life after three years of heavy use, in a corporate environment, when the devices are refurbished and renewed for light use with its next owner. This means that companies can always have the latest technology while having a positive environmental impact, which is even easier when a specialised provider manages the refurbishment process. On average, e-waste rates are around 13 per cent for owned assets (which are often used until completely out of date) compared to two per cent for leased assets, indicating that leasing provides more avenues for technology to be renewed for further use.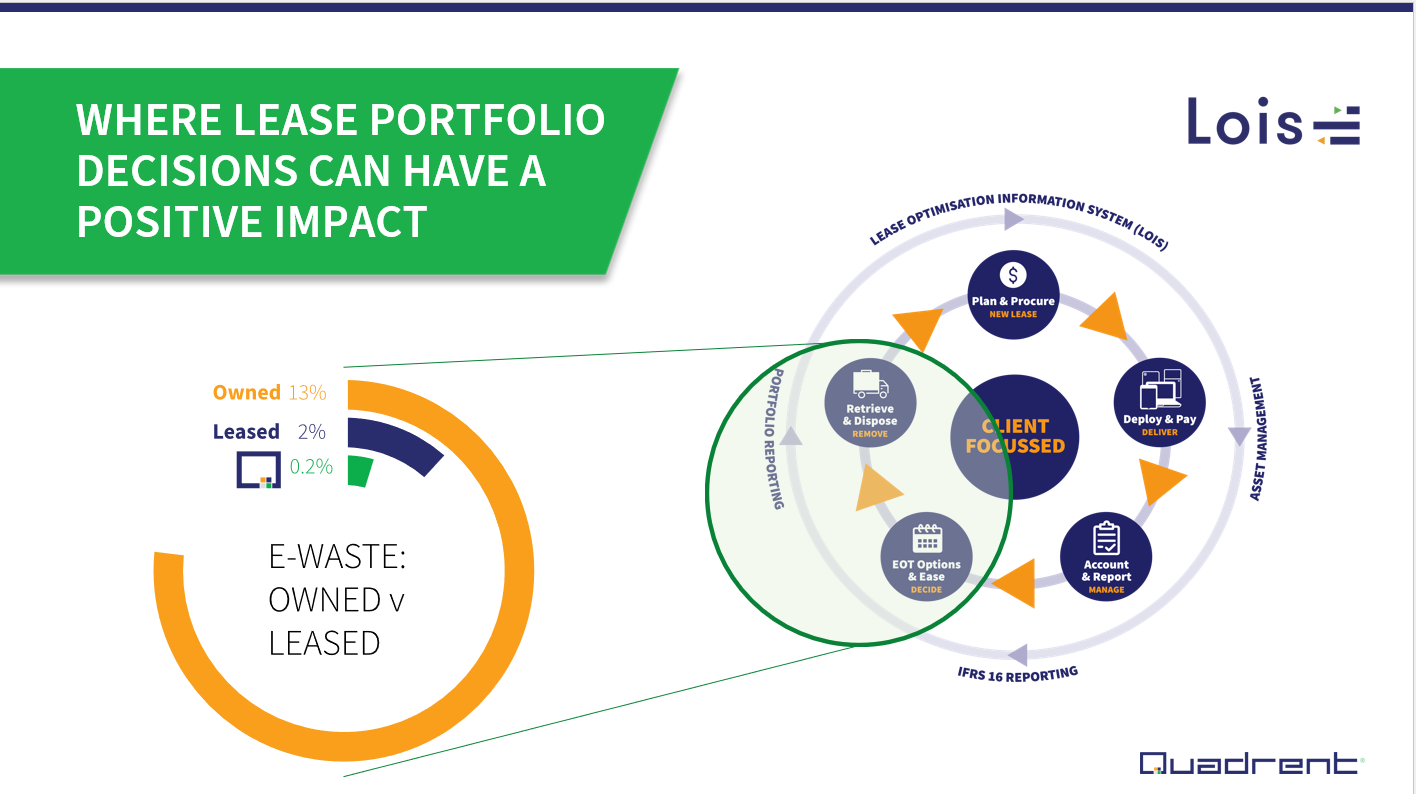 Start Your ESG Journey With Quadrent
For companies looking to proactively minimise their environmental footprint and ensure a demonstrable commitment to ESG, Quadrent's Green Lease provides a simple way for companies to start their ESG journey. Backed by green loan funding that recognises and reflects the UN's Sustainable Development Goals 2021, our sustainable green loans are backed by the Bank of New Zealand and built into an operating lease with ESG reporting.
Quadrent works with businesses helping them to accurately manage their leases, improve IFRS 16 data inputs, and proactively manage their ESG risk. With a team that has in-depth leasing knowledge and specialised accounting backgrounds, we'll help you get the most value out of your assets while addressing increasing ESG requirements.
Start your ESG journey simply and efficiently with Quadrent. Click here for more information.
Related Posts
You might also like