How schools are helping their teachers manage stress in 2020
Some schools have effectively adapted and grown this year despite the impacts of the COVID-19 pandemic. Not only have the challenges of the year provided an opportunity for schools to change and innovate, but it's also put everyone's skills to the test. While challenges are often fantastic professional development opportunities, these times can be stressful as well.

For teachers, in particular, they must have the right tools to manage stress and look after their wellbeing effectively.
In this article, we provide an overview of some of the key stressors that teachers are experiencing and what schools can do to ensure their teachers remain safe and well. This is not only critical for the health of teachers, but the ability for teachers to manage stress impacts student outcomes as well.
Adapting to new technology and teaching methods
The year to date has required a great deal of adaptability no matter what role you play in the education sector, but especially for teachers. Not only did teachers need to adapt to teaching remotely and ensuring a smooth transition back to the classroom as restrictions eased; they also needed to rapidly understand how to use new technology. And in Victoria's case, teachers have had to adapt to remote learning becoming a long-term change at least until later this year.
For younger teachers, the use of mobile devices and laptops for learning is second nature. As is using platforms like Zoom to communicate and the gamified nature of some programs to keep people engaged. Teachers who aren't as experienced with technology, however, had a steep learning curve this year with the move to remote teaching. Couple this with the challenge of keeping students engaged, and it could make even the most seasoned teachers stressed and worn out.
Ensuring your teachers understand how to use the latest technology to ensure positive learning outcomes requires a two-fold approach — your school needs up to date technology, and your teachers need to understand how to use it. Putting a strategy in place, so your school has a technology refresh on a regular basis will keep your staff up to date, while providing resources such as training workshops will ensure teachers are comfortable with new technology.
Adaptability also plays a big role in reducing stress in times change, such as adjusting teaching styles and methods to keep students engaged. Helping teachers to increase their ability to be adaptable is part of fostering a culture and work environment where challenges can be expressed freely, and solutions can be collaboratively formulated.
Fostering a supportive culture
Leaders amongst the faculty, and school principals, in particular, play an important role in supporting teachers throughout many aspects of their career.
According to the research paper, Leader autonomy support in the workplace: A meta-analytic review, published in 2018, autonomy-supportive leadership is a key part of helping teachers manage workplace challenges and stressors through fostering a culture of empowerment and self-initiation. Further, the research for this paper revealed that teachers who work in a team where school leaders promote autonomy have better relationships with their students and colleagues. These positive relationships also have a flow-on effect when engaging with parents.
A culture of autonomy can also provide teachers with improved adaptability and wellbeing and a greater capacity to deal with workplace challenges. The capacity to deal with challenges has been particularly important this year.
Moving forward with practical steps to help your teachers
Helping your teachers to be adaptable both with new technology and facing challenges and ensuring they feel empowered are critical to managing stress and improving workplace wellbeing.
Practical steps you can take to foster a supportive environment include:
understanding your teacher's varying requirements for online learning and transitioning back to the classroom
providing effective forums for teachers to express challenges and opportunities
demonstrating transparency in listening to feedback and effectively addressing teacher's concerns
seeking input from teachers on the best ways to continue the school's activities and what needs to change
setting clear expectations with teachers around what's required from them in this dynamic environment.
Teachers have dealt with a significant amount of change and responsibility this year. If you'd like to understand how Quadrent's asset leasing and financing solutions can contribute to positive learning outcomes for students, improve the working environment for your teachers and engage parents effectively, click here to download some information about how we can help.
Related Posts
You might also like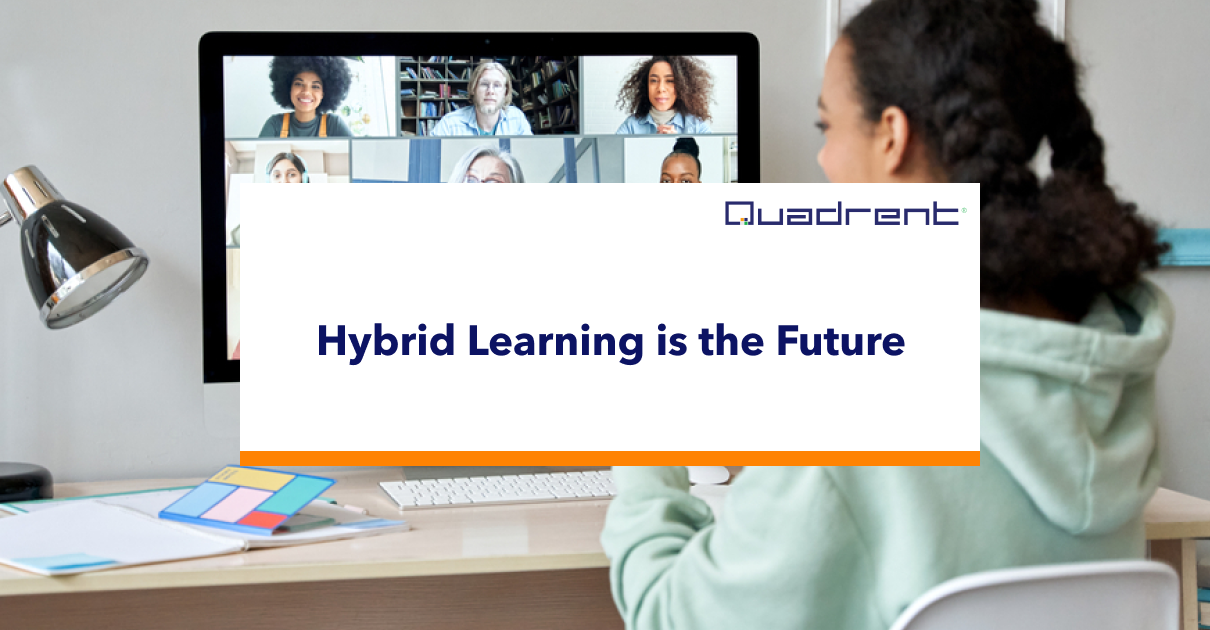 Hybrid Learning is the Future
If COVID-19 taught schools, teachers, parents, and students anything, it's the fast pace at which people sometimes must ...